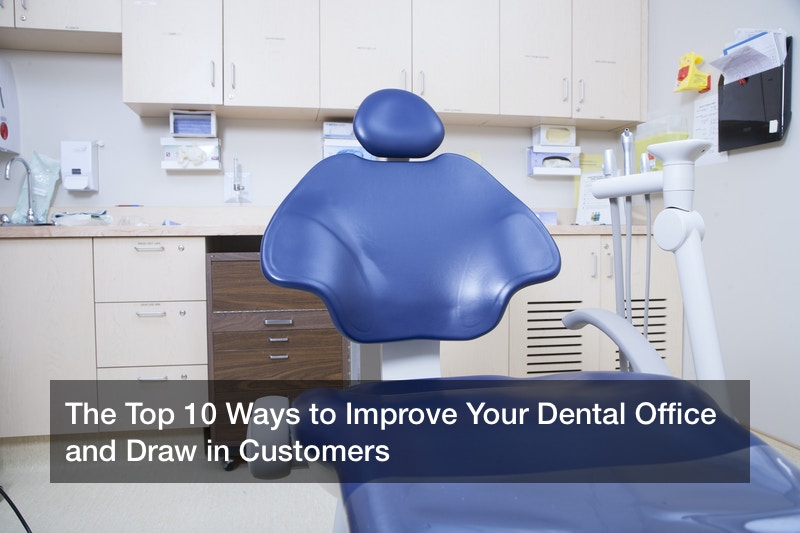 Did you know that nearly 80% of Americans suffer from cavities by the time they reach 17? It just goes to show that we will always need dental offices and the need for oral healthcare is a message that spreads wider every year.
Still, that shouldn't dissuade you from focusing on dental office improvements. People are spoiled for choice when it comes to dental offices, so what are you doing to stand out?
It isn't enough to offer great dental healthcare because your customers can find that anywhere. The key is to focus on improving your workspace to create a customer-focused environment that elevates your reputation, branding, and reach.
Here are the 10 best ways to implement dental office improvements.
1. Show the Customer They Are More Than a Dollar Sign
As business owners, our focus can often become laser-targeted on the most efficient way to make money. Unfortunately, customer appreciation can get lost within that mindset.
Patients want to know that you are there to help them, not simply shove them on a conveyor belt of money-making possibilities. The best way to put the focus back on the patient is to simply change the way you speak to and about them.
Think about restaurants that focus on showing verbal appreciation versus saying things like "you're welcome" or "no problem." You want to learn what your patient desires and needs through genuine inquiries. Offer them an open ear and don't make questions about insurance and payments the first priority.
Many successful dentist offices have found great success through implementing flexible payment plan options, discount events, and income-based pricing.
Follow the principles of patient-focused care
There are eight commonly accepted principles that can create a patient-centered environment in your dental office. They are:
Show respect for customer preferences
Provide assistance in coordinating proper care
Focus on thorough education of patients
Make patients feel comfortable and welcome
Prioritize empathy and emotional support for patients
Bolster the importance of a patient's support system
Make the transition to aftercare seamless
Highly rank the ease of access to care
Dental office improvements should all be vetted through the eyes of someone educated in the principles of customer-focused care.
2. Keep Your Building Maintained
Cleanliness and functionality are both important aspects of dental office improvements.
Clients will quickly notice if your building is in disrepair or the level of sanitation is questionable. Regular maintenance can also prevent the preemptive breakdown of expensive equipment.
Making time for things like regular drain cleaning, minor repairs, and device evaluations can save thousands of dollars over each fiscal year.
Hold Your Landlord to High Standards
Some building maintenance may fall on the shoulders of your landlord. If your tenant agreement takes the power of large repairs from your hands, don't be afraid to remind the property owner of their obligations. If your landlord thinks they have the right to come in unannounced, you might want to look into a 24 hour locksmith for help.
The lack of accountability from higher up can lead to damage and issues that can completely close down your office for extended periods of time. For example, neglecting roof repairs can cause serious structural damage that may force you into suddenly relocating your entire business.
If your landlord is refusing repairs they are contractually obligated to complete, reach out to a lawyer to either force their hand or allow you to vacate your lease.
3. Focus on Effective Marketing
Marketing is important for any business, but especially in saturated fields like health care. While mailers, billboards, and flyers are all fantastic forms of marketing, there are cheaper and more effective methods to try in the digital space.
Website and social media marketing have skyrocketed in popularity over the last decade. Using these forms of marketing as dental office improvements can boost your client list and make your practice a household name.
Start by filling your website with well-written content. This is an inexpensive and effective way to boost your search result rankings. This means that clients in your area who search for things like, "dental care," will be greeted with access to your website.
When it comes to building your social media profiles, keep your profiles filled with relevant content, information about unique services and products, and piquant posts.
Workers can be easily trained in social media management, or you might want to hire a digital marketing professional who knows how to engage your audience.
4. Revisit and Refresh your Standards and Procedures
The best business owners and industry leaders know that the standards and procedures of any industry are constantly changing. Have an open mind and continue to educate yourself on dental office improvements and software advancements.
Automate Your Office
Automation of patient registration is a great way to elevate your dental office and create a more effective workflow.
Create e-forms for clients to fill out on your website. This not only saves time in office but also can seamlessly link client information to your PMS system. Another tool for automation is a check-in kiosk, which medical offices find useful for streamlining the intake procedure.
Marketing can also be automated. Social media posts and e-mail content can be created in advance and set up on a timer. This lowers the amount of active time needed for creating marketing content and provides more opportunities to engage with your audience and reply to client feedback.
Another area of automation is shipping. Using automated shipping and receiving can lower errors during parcel audit and ensure that your supplies are properly stocked at all times.
5. Ensure You're Offering Modern Services
Have you taken the time to educate yourself on the year's most popular elective procedures?
Patients are seeking all kinds of inventive dentistry from aesthetic tooth shaping, grills, tooth gems, whitenings, and more.
There are a lot of unprofessional places offering these options dangerously. Providing these services in-office can not only boost your sales but also provides patients a safe environment in which they can experiment with the look of their teeth.
These services are a great focal point for marketing ventures, especially social media marketing. After all, you need to let your patients know all the great services you can offer and dental office improvements you have made.
6. Cleverly Promote Elective Work
Once you have the materials and knowledge for modern, elective procedures, you need to promote them.
Don't push expensive procedures on patients too bluntly. Coming on too strong can turn patients away from returning for additional procedures and health care. Instead, take the time to assess your patient's personality and recommend services in a friendly, jovial way.
Here are some examples of great sales dialogue that can be used naturally, in response to client concerns or conversation.
"I love your piercings! Have you ever heard of tooth gems? I bet you'd really like them."
"If you want, we can set you up with some teeth whitening after your cleaning. Most patients love adding a bleach treatment to really make their teeth look great."
"If you're self-conscious about that chipped tooth we could cover it with a veneer. They look very natural, and patients love how easily they can cover a damaged tooth!
7. Champion Your Staff
Business prosperity starts with the bolstering of a great and effectual staff. It takes more than hiring the best. You need to treat your staff like they are the foundation of your business and spread success from the roots up.
Enhancing your staff relationship can be done through offering professional development, leadership training, team camaraderie events, flexibility in hours, understanding to personal hardships and needs, and treating your staff as individual humans – not tools for your business.
Investing in your people creates an atmosphere that resonates through the business and trust us, patients will be able to tell!
8. Overcome Financial Limitations
Dental office improvements can often require a bit of money. If your business is operating in the red, you might be limited in the way you can enhance your space. Seeking debt help is important in creating a sustainable business.
Some improvements, like offering elective services and enhancing customer service, can be done with little to no additional costs and may help pull your company out of financial troubles.
9. Create a Customer-Focused Service Space
Stereotypically, Dentist offices can leave a lot to be desired in the way of warm and inviting aesthetic. Though there is an undeniable need to display the sanitary standards of your workspace, patients will appreciate unique and inviting dental office improvements.
Studies have found that more than 60% of people have some level of fear of the dentist. Most people are afraid of the pain, but others worry about being stuck in the dental chair, the use of chemicals, the sound of the drill, the fear of cost, and many other aspects of an oral healthcare visit.
Your decor and amenities can help relax patients and promote their ability to go through with oral health procedures. Here are a few items or decor ideas that can help create a patient-friendly environment.
Waiting Room Entertainment: Consider providing magazines, books, and a television for patients to naturally distract themselves from their anxiety. Get your waiting room assessed by audiovisual installers to find the best location for a communal television.
Spacious and Comfortable Seating: Outdated office seating made from plastic, metal, or vinyl has its perks. You can easily sanitize the surfaces and avoid staining and damage. However, this overly sanitary appearance can increase patient anxiety and produce a cold feeling in the waiting room. Instead, opt for wide, cushioned seating in inviting colors and textures.
Appropriate Wall Art: Many dentists make the mistake of using before and after photos as art in their waiting room. However, the goal should be to remove your patient's thinking from the anxiety of dental work. Instead, opt for art pieces that are simple and match with other furniture and decor.
Warm Lighting: Most offices implement fluorescent lighting to save on lighting costs, but the cold, bright light that is emitted doesn't evoke a comforting feeling. While some offices may opt to install all-new lighting fixtures, a quick and cheap fix is to purchase tinted light covers that convert the white light into a warm, yellow light.
Make a Fun, Quiet Kid's Space: Entertaining children is an important part of maintaining an effective waiting room. However, it takes more than just providing toys and books for kids. Consider adding glass barriers that reduce the noise of the children playing while maintaining visual access to the play area.
Add a Brushing Station: Many patients have anxiety over having bad breath during an examination. One way to put this at ease while also improving your job experience is to have a plumbing company install a brushing station. You can stock it with sample tubes of toothpaste and disposable toothbrushes for a helpful and sanitary office addition.
10. Shine a Light on Customer Service
Great customer service is important for maintaining customers. Train your customer-facing staff in the art of conflict resolution and de-escalation as well as the importance of the customer experience.
Encourage patients to leave reviews on your website as well as your Google business listing to improve the odds of catching the eye of new patients.
Tips for Maintaining Your Business
Once you have implemented the steps of dental office improvements, you may wonder how you can protect the thriving business you have created.
One important thing to do is ensure you retain representation from an accident lawyer. You never know when an accident may occur and vetting options in the midst of a crisis can lead to poor choices. If you're not following the law, you might even get arrested and have to shell out for a bail bond agent.
Similarly, remember to focus on safety in the workplace to maintain a healthy and efficient staff. Workplace injuries not only hurt productivity, but they reduce morale among workers.
If a worst-case scenario happens and one of your employees seeks a workers comp lawyer, don't panic. Your workers comp insurance and personal business lawyers will do their best to fairly represent your case. If you know that you have created a safe work environment with proper training and procedures, things should be okay.
Don't Underestimate the Power of Improvements
Even the smallest of dental office improvements can elevate the atmosphere of your dental office in a way that draws patients away from other dentists and in your front doors. It may be hard to see the resounding benefits of a new water heater or adding televisions to your waiting area, but bettering customer experience is the best way to beat out the competition.
If you put a little creativity and elbow grease into your office, you will soon see how financially and emotionally rewarding it is to be a patient-focused medical provider.