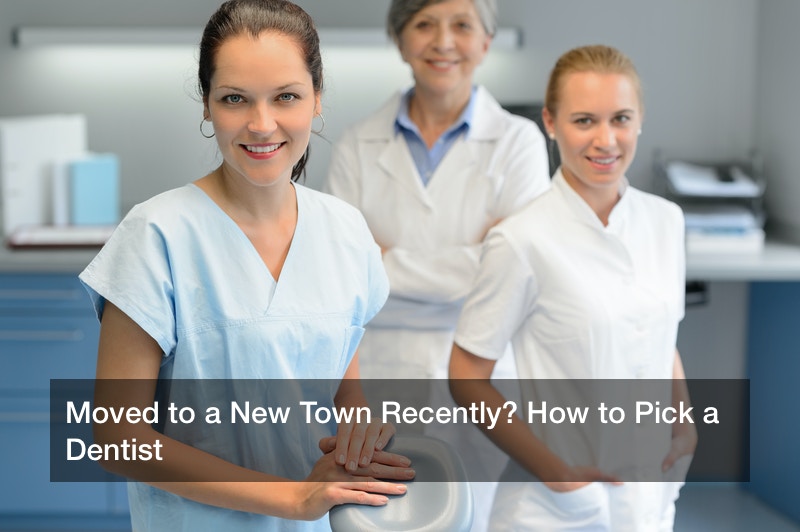 Choosing a dentist is no easy task. If you have had a long-standing relationship with a dentist and his or her practice, you are likely accustomed to the particular way that the dentist and the dental staff does things. You may have even developed a friendship with the dentist and office staff. Moreover, if you have dental insurance, you know that your dentist accepts your insurance.
There are times, however, when you will need to find a new dentist. If your dentist retires, you change dental insurance plans or insurance carriers, or you move to a new town, continuing with your trusted dentist may be impossible. Similarly, if your dentist operates a general practice, but you need a specialist, such as an oral surgeon, periodontist, orthodontist, or childrens dentist, you may need to find a dentist who can treat a specific problem.
Here are nine ways to find and choose a dentist:
Online Search
Most dental practices have websites. When search engines crawl websites, they gather information from the hidden and visible text of the website so that when you type in search terms, the search engine can send you to a website containing those terms. For example, if you search for "pain free dentist" using a search engine, your search results will contain websites that contain that phrase.
Importantly, search engines also return local search results based on your location. Searching for "childrens dentists near me" will return websites for pediatric dentists in your town or city.
Websites with searchable directories of dentists are provided by professional groups, like the American Dental Association (ADA), and paid directory services, like the Yellow Pages. These directories will return results focused on your location and, in the case of the ADA, list dentists' specialties. The drawback to these directories is that they do not provide much information besides the dentist's office address and telephone number. Specifically, these directories usually do not provide a way for patients to leave dentist reviews and ratings.
Online Dentist Reviews
Online review sites include dentist reviews just like they include reviews of many other types of businesses. Surveys show that over 95% of Millennial consumers read online reviews before choosing a business or product. More importantly, nearly 90% of shoppers trust online reviews by other consumers.
Of course, online reviews of professional practices, like lawyer, doctor, and dentist reviews, are a little bit different from online reviews of products. However, you should be able to glean some information about the dental practice reviewed. For example, reviewers may leave comments about the staff, billing procedures, and wait times to see the dentist.
However, as with most online reviews, your experience may vary from the patients who leave dentist reviews since people are often more motivated to leave a review after a negative experience than they are after a positive experience. As a result, dentist reviews may tend to skew negative even when the dentist is well-liked and has many satisfied patients.
Referral From Dentists
Whether you need a new dentist because your current dentist is retiring, your insurance no longer covers your current dentist, or you are moving away from your current dentist, your old dentist may be able to recommend a new dentist.
For example, many retiring dentists bring younger dentists into their practices to take over after the retirement. If you like the way your current dentist does things, you may like the new dentist in the practice since your current dentist hand picked the new dentist to take over.
Similarly, if you are moving to a new town or changing insurance, your current dentist may be able to refer you to a colleague who your dentist knows and trusts. Dentists make many connections through dental school, conferences and seminars, and social events sponsored by dental labs and pharmaceutical companies. Through these events, dentists build a dental network across different cities and specialties and may be able to recommend a new dentist when your current dentist is no longer able to treat you.
Occasionally, you will need a new dentist even when you keep your current dentist. For example, if you have a particular condition that your current dentist is not comfortable treating, your current dentist may help you find a specialist.
While all dentists are trained in procedures such as fillings, root canals, and simple extractions, oral surgeons are often called upon to handle more complicated procedures, such as wisdom tooth extractions and reconstructive surgery.
Periodontal dentistry focuses on the gums and soft tissues of the mouth. When you suffer from gum disease or oral inflammation, your old dentist may refer you to a periodontist. Likewise, if your current dentist is not comfortable handling dental implant procedures or your particular dental implant presents special issues, your dentist may suggest seeing a specialist in periodontal dentistry.
Technologies such as Invisalign have broadened the ability of dentists to offer orthodontic treatment. However, some cases require traditional braces. For these cases, your dentist may refer you to an orthodontist.
An orthodontist is specially trained in techniques and equipment used to straighten teeth and align your bite. If you have an overbite, underbite, or teeth that are turned in the socket, you may require traditional braces from an orthodontist rather than Invisalign aligners.
Referral From Friends and Relatives
One of the best sources of information on a dentist is friends and relatives who are patients of the dentist. If your neighbor or co-worker had a cracked or chipped tooth repaired with a dental crown or has sparkling teeth from having a teeth whitening, you should ask which dentist performed the work. If you have a close relationship with the dentist's patient, you should receive a fairly candid review of the dentist's services.
One difference between a personal referral and online dentist reviews is that a personal referral allows follow up questions and discussion, whereas online dentist reviews are strictly a one way comment.
Thus, when discussing dentists with friends and relatives, you can take the opportunity to ask about the exact concerns that you will use to decide whether to visit that dentist. For example, if you are looking for a childrens dentist, you can ask about the dentist's ability to teach children how to practice good oral hygiene. Nearly 80% of Americans have at least one cavity by age 17 and the best pediatric dentists teach children how to avoid cavities.
You can also ask friends and relatives about the wait times, the comfort of the waiting room, or friendliness of the staff, any of which can influence your decision to take your children to the dentist. These open ended discussions are impossible when you are limited to dentist reviews posted online.
Referral From Doctors
Although dentists and doctors do not often cross paths professionally, there are occasions where you may obtain a recommendation for a dentist from a doctor.
For example, if you have to visit an emergency care clinic after an accident, the emergency room doctor may recommend that any injuries to your teeth, mouth, and jaw be treated by a dentist. Emergency care centers typically do not have a dentist on call, and you may need to visit a dentist that specializes in trauma or reconstructive surgery to repair any damage. Emergency room doctors may know such dentists through their work in the emergency room with trauma patients.
Even under non-emergency circumstances, you may want to discuss a dentist referral with your doctor. Doctors, through their social network, may know lawyers, accountants, and dentists as friends, even if they are not, strictly speaking, colleagues. A referral from your doctor to a friend who happens to practice dentistry is a good place to start if you have no other leads on good dentists.
Dental Insurance Website
If you have dental insurance, your insurance carrier will have a directory on its website of its dental network. Dentists within your insurance company's dental network have agreed to the insurance company's policies and procedures so that they can receive payments from the insurance company.
In some ways, your insurance company's dental network is just a list of providers who accept your insurance. In other words, most insurance companies do not screen providers before accepting them into their dental networks. Rather, the relationship between insurance companies and dental providers is strictly a business relationship.
However, some insurance companies allow patients to leave dentist reviews of providers within the company's dental network. These dentist reviews are often available through the insurance company's website and may also be available in the printed provider directory that is provided to insurance customers.
If your dental insurance carrier provides dentist reviews, you will likely find them by logging into the insurance company's website and searching its directory. In addition to dentist reviews, the directory will probably identify specialists within the dental field, such as pediatric dentists, periodontists, orthodontists, and oral surgeons, who are within your insurance company's dental network.
If you are more comfortable with a printed provider directory, your insurance carrier may provide ratings within the directory that are based on dentist reviews that it receives. These ratings vary from insurance company to insurance company, but often take the form of letter grades (for example, A, A-, B+, B, B-, and so forth) or star ratings (for example, five stars, four stars, three stars, and so forth). To obtain a printed provider directory, you can request one from your insurance company or request one from your employer if you have employer-provided dental insurance.
Contact the State Dental Board
As a starting point, or after you have received a recommendation, you may want to contact your state's dental board. The dental board is responsible for testing and licensing graduates of dental schools to practice dentistry. The dental board maintains a list of licensed dentists and can be a resource to find a dentist when you are searching for one in a particular area or with a particular specialty.
Moreover, if any question is raised about whether a dentist is licensed, the state dental board would be the place to search for the dentist's status. While it is not common, it would not be out of the question for someone to practice dentistry without a license. Checking the state dental board's website would give you the ability to determine a dentist's licensing status.
Just as importantly, the state dental board is responsible for handling any complaints received about dentists. If you have a complaint about a dentist, or you want to know if a dentist has had complaints filed against his or her practice, the state dental board would have a record of those complaints and their resolution, if they have been resolved.
This would be how you can find out if your dentist has been accused of any ethical violations. Bear in mind, however, that some complaints are frivolous and are filed by unsatisfied patients based on personal animosity. Thus, it is important to check the resolution of the complaint to determine if the state dental board took action against the dentist or dismissed the complaint as unsupported by the evidence.
Local Office
As you drive around your neighborhood, you may spot a dentist office. If you are in a town with few options for dentistry, you may want to give the dentist a try. Having the dentist perform a routine examination and cleaning will give you a chance to check out the dentist, dental staff, and office.
An examination and cleaning risks very little to obtain some information about the dentist. If you are satisfied with the service, you can return for your regular dental visits and dental procedures. If you are not satisfied with the service, you know not to return to that dentist's office.
Alternatively, you can use the Internet to research a local dentist office before making an appointment. According to some surveys, between 55% and 67% of consumers check reviews before patronizing a business. Searching the online dentist reviews for a local dentist office may be the factor that convinces you to give the dentist a try or continue searching for another dentist.
Tour a Dentist's Office
Many dentists offices provide the opportunity to visit the office and meet the staff and the dentist prior to making an appointment. This is relatively common among pediatric dentists, since children often fear the unknown and touring the dentist's office prior to making an appointment can ease some of that dental anxiety.
However, even for adults, many dental offices are available for tours with advance notice. When touring a dental office look for an office that is clean, a staff that is courteous, and a dentist who is willing and able to answer questions. Also, raise any specific issues that you might have, such as financial constraints, dental anxiety or phobia, or unique health conditions.
Choosing a dentist can be a difficult process. However, there are tools at your disposal. Friends and family, doctors, and other dentists can refer you to a qualified dentist. Online dentist review websites can fill in other details, such as the friendliness of the staff and the typical wait times. Insurance directories and state dental board websites can give you a place to start your search and may also provide dentist reviews and insight into any disciplinary actions. Once you narrow down the options, visit a dental office in person.