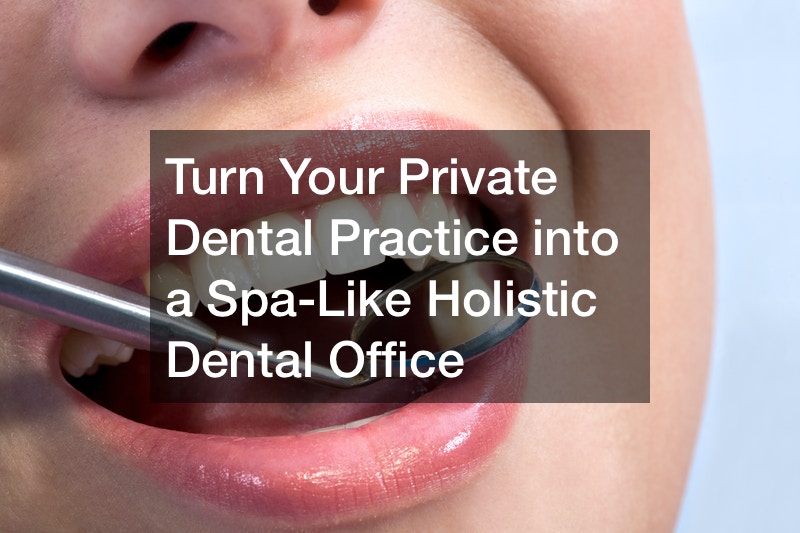 Are you trying to find new ways to improve your dental office and aren't sure where to begin? Have you ever considered upgrading to a holistic dental office that functions something like a medical spa? You may not understand holistic dental care or think it is something of a fad. However, that doesn't appear to be the case. A growing number of professionals are taking this experience seriously and are doing what they can to improve their service. Here's what you need to know about this process.
What Is a Holistic Dental Office?
A holistic dental office is a unique medical facility that offers alternative and traditional dental options for those who want it. For the sake of this article, we are defining traditional medical practices as the medical procedures you normally get at a dentist. If you only want this type of care, a holistic dentist can still work for your needs. However, they can also provide a surprising array of other options.
We want to make sure that we narrow down your understanding of holistic dentistry to ensure you understand what you're getting into. You may hear many terms applied to holistic dental office professionals. These include natural, biological, alternative, and preventative dentistry. All these terms mean the same thing as holistic: this should help cut down on any potential confusion.
Typically, these dentists have a specialized dental degree and license and training in holistic dentistry. The basic purpose behind a holistic dental practice is the theory that people's dental health connects to their overall health and that by treating other general conditions, they can improve a person's dental health and overall happiness. Their treatment options may vary in many ways.
Care Options You May Get at a Holistic Dental Office
Holistic dentists will provide your typical dental care options, including improved flossing, brushing, and medical treatments for your health. They will clean your teeth, spot potential cavities, repair them with fillings, and perform other types of dental surgery as needed. In that way, they're just as good as a normal dentist, but they can also provide other types of care you might not expect.
For example, a holistic dentist may suggest herbology or use various types of herbs and spices to improve oral health. They may also focus on things like homeopathy or using more natural care methods to improve your overall health. Some might even provide spiritual healing or pay with their patients as a way of improving their overall health. These methods may appeal to many people.
It is important to know that holistic dentists do perform various medical procedures, like cold laser treatments, but may not use options like fluoride treatment or amalgam dental implant or filling materials. They typically believe these processes are problematic or even dangerous, though this situation may vary depending on a specific dentist and their unique personal beliefs.
If you're on the fence about installing a holistic dental office in your current practice, it is a good idea to take a deeper look at the benefits this process may provide. It might surprise you just how helpful this process will be if you're willing to take the steps for its integration.
Thankfully, we've done the research for you and can identify a few reasons why you might want to seriously consider upgrading your facility in this unique way. The following advantages are things that you can experience if you upgrade your practice to a more holistic-centered one:
Real Dental Help: When you visit a holistic dental office, you can still receive treatments like composite fillings, various implants, dental checkups, cleanings, and much more. That type of professional care doesn't change, though a holistic dentist may seek out more natural solutions rather than turning to chemicals or other types of invasive procedures instead.
Whole-Health Education: Many holistic dentists provide a whole-health evaluation and have more advanced degrees that they can use to help improve a patient's overall health. This process will vary depending on the dentist and may include working with various specialists who understand this process and who can improve its efficiency to ensure that patients get the best results.
Health Education: Holistic dentists typically believe heavily in educating their clients and ensuring that they better understand their oral health situation. This type of benefit is critical because it can provide patients with a better way of managing their oral health outside of a dental office. They can also utilize more advanced personal techniques to help make themselves healthier overall.
Medical Spa Environment: Many holistic dentists take their new practice and convert it into something akin to a medical spa. This situation has become surprisingly popular and is something that you can do to make your office stand out if you're a dentist or if you plan on becoming one any time soon. You can also improve your holistic treatment scope to ensure your patients get great results.
A holistic dental office often takes many unique steps to ensure that its facility is strong as well. For example, they might perform air conditioner repair to keep their customers comfortable. They typically believe that comfort equates to excellent treatment and work to do what they can to help.
They may also do things like get a commercial EV charger installer to place charging stations outside their office. These stations may work to help cut back on energy use and provide their patients with a unique range of benefits. However, most will work hard to make their office akin to a medical spa.
Can You Turn a Dental Office into a Med Spa?
Absolutely! We're not saying this will be a simple process by any means. Many people may spend a lot of money upgrading their practice to get the results that make the most sense for them. You might even have to go into debt to fund these upgrades and keep them operational.
That said, we can't deny that you'll likely get an amazing array of potential advantages when you take these steps. Just as importantly, you can still use your old practice methods without getting rid of most. You can decide what holistic steps you want to take and which you feel comfortable ignoring.
Steps You May Want to Take
If you're interested in a holistic dental office that works more like a medical spa, there are many steps that you can take to get started. The following four should get you on the right path and make this experience something a little easier for you and your dental team to execute properly.
1. Improve Your Building's Appearance
When turning your office into a holistic care center, you may want to improve its overall appearance to attract more potential customers. For example, you can add ADA compliant signage that catches the eyes of your patients and lets them know that you have a holistic care option for their needs.
You may also want to add asphalt sealcoating to your driveway or otherwise improve its overall appearance. This step is smart because it minimizes potential appearance issues and keeps your driveway looking as strong as the rest of your facility, attracting more potential customers.
Then, you need to do what you can to improve the interior and exterior and make it more comfortable. Paint it using neutral colors, integrate various high-quality comfort upgrades, install plants to improve oxygen flow, put in wider and more open windows, and do what you can to make your patients comfortable.
These steps aren't just about improving your practice's overall appearance: they're heavily focused on making your customers and patients more comfortable when they visit you. That increased comfort is a huge part of the holistic process and is something that you should take seriously.
2. Take Specialized Holistic Training Courses
Before you provide holistic care, you need to get training for this process. You can't simply buy a few holistic tools, install some crystals, burn incense, and consider yourself a holistic dental professional. These experts have specific and serious training to do before opening a holistic dental office.
There are many ways you can get this training. Some dental schools provide supplementary education you can use to improve your understanding of these processes. You can take these classes during your initial dental training or get them later as additional options while working as a dentist.
There are also specialized holistic classes you may take from various other sources. Each of these unique training options should give you a unique experience and provide you with a hands-on experience that is likely to make you a holistic expert in a year or less.
Whatever course you take, it is important to take this holistic medicine seriously. You shouldn't cynically try to become a holistic dentist just to make extra money. By believing in these processes, you improve your ability to implement them and help your patients feel more comfortable with you.
3. Upgrade Your Facility's Usage
Now that you've learned the various holistic processes necessary for this type of medical spa experience, you can upgrade your facility in a variety of ways. For example, you can add things like an epoxy floor coating to boost its overall appearance and make it more relaxing for patients.
That said, we're also talking about more in-depth steps that will improve your practice. For example, water sanitizing helps your patients by providing pure water that they can use for rinsing. Purer water also falls within a holistic guideline and provides many other benefits for your patients' needs.
Next, you need to add various medical spa tools that will help your patients relax and get the treatment they need and deserve. For example, you can include various relaxing rooms where your patients can calm down after their treatment, including unique care options like manicures and pedicures.
The idea behind this process should be to increase your facility's usage and add new, holistic care options that make it a useful care option for many people. It may take a little work, but you can do this! You can then focus on creating a more spa-based environment for your client's needs. Install solar panels and minimize your energy use as you make other upgrades.
4. Focus on Providing a Comfort-Based Experience
Start this process by installing things like ergonomic chairs in your waiting room and treatment offices that allow your patients a higher level of comfort. Put in scent-based and aromatherapy care options in your office, allowing pleasant smells to calm your patients and make their treatment easier.
Just as importantly, you can add things like hot tubs, various types of saunas, and much more to your office. You can provide this type of treatment before or after your patient's care, giving them privacy by creating private areas where they can relax after each care option they receive.
You can also provide unique therapeutic options like mud baths, massages, or even acupuncture for your patients' needs. Get training for each of these options or hire a professional who can do them for you. Some dentists may even get contract workers who come and go, as needed, in their office.
It is important to spend a little money on this process in order to make a little money. You've probably heard that cliché a lot, but it remains true. If you want to turn your office into a medical spa environment, you need to go all-out and do what you can to make it a better place to relax.
If you are interested in this process and think a medical spa holistic dental office is right for your needs, you might want to take many steps to begin. We strongly suggest raising money to begin. You can sell old computer equipment for cash, get rid of old dental equipment you aren't going to use, or even get loans. You may also want to relocate to an area that is more likely to reward you for adding a holistic dental service to the area.